Biofilmcenter
Our main research interest is to develop novel tools for detection and therapy of biofilm-associated microbial infections, in particular for the in situ analysis of biofilm growth and bacteria-host interactions. These tools will aid to identify bacterial species or structures as targets for innovative diagnostic and therapeutic approaches, as well as to determine the efficacy of antimicrobial agents on biofilm microbes. Currently, we focus on the spatial organization of the oral and gut microbiome and the interaction with the host. Further projects deal with understanding of infections due to fastidious or yet uncultured microorganisms.
---
PROJECTS
1. Microbial biofilms
– Analysis of composition and activity of microbial biofilms in the clinical setting
– Diagnostics in biofilm-associated infections such as Infective Endocarditis, cardiovascular devices, oral biofilms in periodontitis and peri-implantitis, wounds and others
2. Testing of antimicrobial surfaces and antifouling materials against microbial biofilms in vitro, in vivo and ex vivo
– Measuring the efficacy of antimicrobial surfaces and antimicrobial materials against biofilms by FISH
3. Fluorescence in situ hybridization (FISH) and molecular analysis tools
– Combining FISH and nucleic acid amplification techniques (PCR, real-time PCR, NGS) for
Quantity and distribution of the microorganisms

Identification of key players and key pathogens

Study the mucosal interfaces

Development of FISH for the diagnostic setting
4. Whipple's Disease and Tropheryma whipplei
– Consultant Laboratory for Tropheryma whipplei appointed by Robert Koch-Institute (RKI)
For more information, see http://www.moter-diagnostics.com/
5. Culture negative infections and fastidious organisms
– Human Intestinal Spirochetosis
– Chorioamnionitis
---
LAB MEMBERS
Dr. Judith Kikhney
Postdoc
judith.kikhney(at)charite.de
+49 (0)30 450 524 524
+49 (0)30 450 524 006
Gitina Fiedler
Technichian
gitina.fiedler(at)charite.de
Laura Kursawe
Research Assistant
laura.kursawe(at)charite.de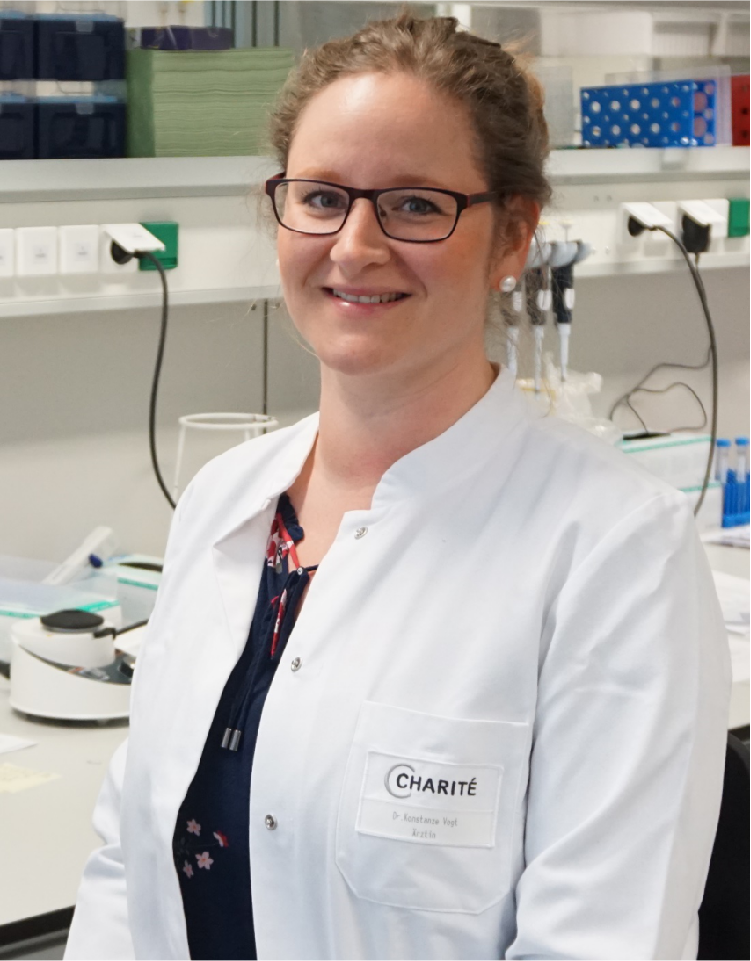 Julia Schmidt
Research Assistant
julia.schmidt2(at)charite.de
+49 (0)30 450 524 524 (office)
+49 (0)30 450 524 015 (lab)
Julia Schmidt
Research Assistant
julia.schmidt2(at)charite.de
+49 (0)30 450 524 524 (office)
+49 (0)30 450 524 015 (lab)
Alexandra Wießner
Research Assistant
alexandra.wiessner(at)charite.de
+49 (0)30 450 524 524
+49 (0)30 450 524 015
Alexandra Wießner
Research Assistant
alexandra.wiessner(at)charite.de
+49 (0)30 450 524 524
+49 (0)30 450 524 015
---
FUNDING
The European Union (EU) and the European Regional Development Fund (EFRE) support our research. Aim of our ProFIT project is to increase the sensitivity of FISH. Ultimate goal is to test antimicrobial substances or surfaces in a FISH biofilm test-platform for improved medical implants. Biofilmzentrum carries out the project in cooperation with the SME MoKi Analytics. For more information, see http://www.moki-analytics.com/
We are also supported by the Bundesministerium für Bildung und Forschung, the Bundesministerium für Wirtschaft und Energie and the EXIST program.
---
ad 1. Publications
Lauten A, Martinovic M, Kursawe L, Kikhney J, Affeld K, Kertzscher U, Falk V Moter A. Bacterial biofilms in infective endocarditis – an in vitro – model to investigate emerging technologies of antimicrobial cardiovascular device coatings. Clin Res Cardiol. 2020, accepted
Yaban B, Kikhney J, Musci M, Petrich A, Schmidt J, Hajduczenia M, Schoenrath F, Falk V, Moter A. Aerococcus urinae – a potent biofilm builder in endocarditis. PLoS One. 2020, Apr 23; 15(4)
Detection of Coxiella burnetii in heart valve sections by fluorescence in situ hybridization. Aistleitner K, Jeske R, Wölfel R, Wießner A, Kikhney J, Moter A, Stoecker K. J Med Microbiol. 2018 Apr;67(4):537-542. doi: 10.1099/jmm.0.000704.
Life on the driveline: Molecular detection and fluorescence in situ hybridization-based visualization of microbial species in patients with left ventricular assist devices. Schoenrath F, Kikhney J, Kursawe L, Schoenrath K, Hajduczenia MM, Schulze J, Potapov E, Krabatsch T, Kaufmann F, Falk V, Moter A. J Heart Lung Transplant. 2018 Jan;37(1):163-166. doi: 10.1016/j.healun.2017.09.023.
Reaction-diffusion theory explains hypoxia and heterogeneous growth within microbial biofilms associated with chronic infections. Stewart PS, Zhang T, Xu R, Pitts B, Walters MC, Roe F, Kikhney J, Moter A. NPJ Biofilms Microbiomes. 2016 Jun 22;2:16012. doi: 10.1038/npjbiofilms.2016.12.
Microbiological diagnosis of device-related biofilm infections. Xu Y, Larsen LH, Lorenzen J, Hall-Stoodley L, Kikhney J, Moter A, Thomsen TR. APMIS. 2017 Apr;125(4):289-303. doi: 10.1111/apm.12676.
ad 2. Publications
Evaluating Efficacy of Antimicrobial and Antifouling Materials for Urinary Tract Medical Devices: Challenges and Recommendations. Ramstedt M, Ribeiro IAC, Bujdakova H, Mergulhão FJM, Jordao L, Thomsen P, Alm M, Burmølle M, Vladkova T, Can F, Reches M, Riool M, Barros A, Reis RL, Meaurio E, Kikhney J, Moter A, Zaat SAJ, Sjollema J. Macromol Biosci. 2019 May;19(5):e1800384. doi: 10.1002/mabi.201800384.
Sutrave S, Kikhney J, Schmidt J, Petrich A, Wiessner A, Kursawe L, Gebhardt M, Kertzscher U, Gabel G, Goubergrits L, Affeld K, Moter A. Effect of daptomycin and vancomycin on Staphylococcus epidermidis biofilms: An in vitro assessment using fluorescence in situ hybridization. PLoS One. 2019 Aug 27;14(8)
Recommendations for design and conduct of preclinical in vivo studies of orthopedic device-related infection. Moriarty TF, Harris LG, Mooney RA, Wenke JC, Riool M, Zaat SAJ, Moter A, Schaer TP, Khanna N, Kuehl R, Alt V, Montali A, Liu J, Zeiter S, Busscher HJ, Grainger DW, Richards RG. J Orthop Res. 2019 Feb;37(2):271-287. doi: 10.1002/jor.24230.
Acrylic microparticles increase daptomycin intracellular and in vivo anti-biofilm activity against Staphylococcus aureus. Woischnig AK, Gonçalves LM, Ferreira M, Kuehl R, Kikhney J, Moter A, Ribeiro IAC, Almeida AJ, Khanna N, Bettencourt AF. Int J Pharm. 2018 Oct 25;550(1-2):372-379. doi: 10.1016/j.ijpharm.2018.08.048.
ad 3. Publications
Fluorescence in situ hybridization (FISH) in the microbiological diagnostic routine laboratory: a review. Frickmann H, Zautner AE, Moter A, Kikhney J, Hagen RM, Stender H, Poppert S. Crit Rev Microbiol. 2017 May;43(3):263-293. doi: 10.3109/1040841X.2016.1169990.
Rupprecht T, Moter A, Wiessner A, Reutershan J, Lang-Schwarz K, Vieth M, Rupprecht C, Wagner R, Bollinger T. Moth flies (Clogmia albipunctata) in the hospital distribute multidrug resistant bacteria from the waste water system. Emerg Inf Dis, 2020 accepted
ad 4. Publications
Potential Role for Urine Polymerase Chain Reaction in the Diagnosis of Whipple's Disease. Moter A, Janneck M, Wolters M, Iking-Konert C, Wiessner A, Loddenkemper C, Hartleben B, Lütgehetmann M, Schmidt J, Langbehn U, Janssen S, Geelhaar-Karsch A, Schneider T, Moos V, Rohde H, Kikhney J, Wiech T. Clin Infect Dis. 2019 Mar 19;68(7):1089-1097. doi: 10.1093/cid/ciy664.
ad 5. Publications
Distribution and phylogeny of Brachyspira spp. in human intestinal spirochetosis revealed by FISH and 16S rRNA-gene analysis. Rojas P, Petrich A, Schulze J, Wiessner A, Loddenkemper C, Epple HJ, Sterlacci W, Vieth M, Kikhney J, Moter A. Anaerobe. 2017 Oct;47:25-32. doi: 10.1016/j.anaerobe.2017.03.012.
Is Ureaplasma spp. the leading causative agent of acute chorioamnionitis in women with preterm birth? Kikhney J, von Schöning D, Steding I, Schulze J, Petrich A, Hiergeist A, Reischl U, Moter A, Thomas A. Clin Microbiol Infect. 2017 Feb;23(2):119.e1-119.e7. doi: 10.1016/j.cmi.2016.10.010.